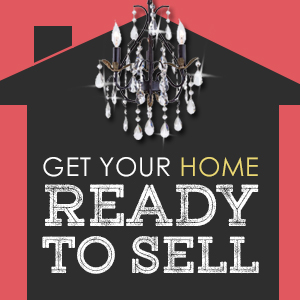 It's Time To Sell
In a competitive market, the way you present your home for sale can make all the difference. A well-presented home will stand out from the rest and increase the probability of a quick sale.
When you've lived in the same home for several years, you won't immediately notice things that other people do. It helps to take a fresh look and pretend that you're the prospective buyer coming to inspect. Of course, you don't want to spend truckloads of money getting things ready but there are simple things you can do to maximize your chances of a quick sale at the best possible price.
Take some photos for yourself – often what stands out in a photo is not what you see. Have a trusted friend or family member to come to your home and look at it as a buyer would. Ask them for an honest opinion (don't get offended!) about first impressions, smells, furniture etc.
Browse lifestyle magazines for ideas on dressing your home to look its best. Inexpensive cushions, vases, candles and prints can all be picked up cheaply at large department stores or reject or bargain shops.
INSIDE YOUR HOME
Create the exact feeling that will reflect the love you have for this special place.
Space enhances the look of your home, so get rid of clutter and unnecessary items. Think about a garage sale now.
Make sure your built-ins and linen closet are tidy; take out any extra clothes so that they look roomier. Do this in your kitchen too so the cabinets look more spacious.
Clear the clutter off the fridge – no-one needs to see your bills, artwork or photos! Remove magnets and stickers too.
Clear the pile of papers (bills, reports etc) from the kitchen bench – we all have them. Hide them in a nice box or basket.
Remove obvious or large family portraits. You want the buyer to feel like the home is already "theirs" as soon as they walk in the door.
Replace all non-working light bulbs.
Fix all leaking taps and polish them.
Let the sun shine in by pulling up the blinds and opening the curtains. Use floor lamps or table lamps to enhance darker rooms.
Kitchens and bathrooms need to sparkle - scrub them from floor to ceiling.
Re-grout or whiten tiled areas in the kitchen, bathroom and laundry if necessary and touch up paint work.
Scrub and polish the kitchen sink and the laundry sink.
Remove large items that a purchaser may not want or that detract from the image you wish to create e.g. outdated wall units or old style light fittings. (If you have too much furniture, put some in storage).
Steam-clean the carpets and rugs to remove dirt and odours.
Make sure all your appliances are in good working order. Clean the oven and other fixtures.
Wash the walls in the main traffic areas. Touch up the paint in corners of walls, architraves and skirting. If the walls are in really bad condition you may need to think about a full coat of paint.
Wash curtains and cushion covers, wipe down blinds, replace any broken tracks or cords.
Make sure all doors open easily and oil squeaky hinges.
IN THE GARDEN
A quick overhaul will not only freshen it up but will make it look bigger as well!
Weed the garden beds, mow the lawns and remove all rubbish.
Reseed your lawn, if necessary to fill in bare patches and prune back shrubs & hedges.
Put some flowering pot plants in strategic places around the garden and in the house entrance. Colour always adds appeal.
Sweep paths and verandahs.
Top up garden beds with fresh mulch and whipper-snip the garden edges.
OUTSIDE
Try to make your house stand out in the street
Hose down the exterior (a high-pressure cleaner is cheap to hire) and make sure you clear all cobwebs and leaves from around the eaves.
Re-paint any bits that need it (flaking paint is a real 'turn off' for a buyer).
Check screens to make sure they open properly and repair any holes.
Clean the windows and scrub the screens. Replace broken or cracked glass
Make sure all doors are clean, open easily and have working locks.
GARAGE & PETS ** Don't expect people to like your pets
Have your garage sale before you sell - get rid of the junk NOW!
Make sure the garage area is swept clean with spider webs removed.
Try to display the storage possibilities to advantage, consider installing some extra shelving.
Keep any pets under control or out of the way completely.
Clean up their feeding and sleeping 'area' – if it's inside - remove it.
Pick up the poo and get rid of any smells if animals have been inside.
Opinions are those of Meg Georkas and may not reflect those of others.
Highly Recommend!
Peter is an outstanding agent with many years of experience. He went above and beyond to assist with the purchasing of my property. He was always professional, reliable and helpful. In addition, he was efficient and punctual at all times. Thanks Peter for the great service, look forward to dealing with you again in the future.
Verified by RateMyAgent
- Buyer
Armidale
The Ultimate Professional
Peter showed the utmost integrity, courtesy and professionalism in the selling of our home. He was never too busy to answer any question we had and kept us informed of all developments. We wouldn't choose anyone else to look after our sale.
Verified by RateMyAgent
- Vendor
Armidale
Exceptional advice, professional seller of our home
We have bought many houses, and sold many houses, but we could never imagine our home would sell so quickly. Peter reassured us from first inspection that he would find us the right buyer, the buyer who would love our home as much as we love it. Our home sold phenomenally quickly, the suited buyer was just around the corner! Peter was flexible with showing people through, and we really appreciated him touching base with us every step of the way. Thank you Peter, we couldn't have asked for a better agent to work with us!
Verified by RateMyAgent
- Vendor
Armidale
Great service from Peter and his team as always!
There is no hidden agenda with this agency, they try to make the best fit for your needs. This is the only agency in town that has always sent me through info about houses that I may like. Thanks H&H
Verified by RateMyAgent
- Buyer
Armidale